How to be successful…
Top 12 do's to avoid business failure
No one starts out in business expecting to fail, but statistics are showing that 50% of SME's fold before the four-year mark. With approximately 350,000 new SME's in the UK every year, this is a sobering thought. Not only do one in two SME's fail, but around one-quarter (23%) of small businesses have no documented strategy in place to support future growth, according to recent research by Barclays. Having a strategy in place, provides a greater chance of success with the added advantage of time being spent working on rather than in the business.
Tendo are advocates of supporting you entrepreneurs to "do more of what you want" so here are our top twelve do's for you to avoid business failure…
Read more …
Please go to a desktop device to download the file!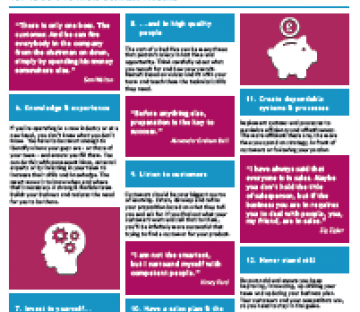 Business Squad

For more hints and tips to help you build your business, why not join our thriving FREE Facebook Group Business Squad?  We share weekly live video training, tools and techniques to help you grow and you can connect with like-minded business owners.

Learn more