It's our wedding anniversary later this month (June) and as a treat, I whisked my Wife Leane, away for a week's break last week.
There are (at least) three things she loves more than me: pizza, Prosecco and sunshine and so it seemed fitting that Sorrento on the Amalfi coast would be a perfect solution.
Now as you can imagine, pretty much every restaurant, bar and shop in the Naples area sells pizza.  The Campania region is after all credited with the invention of Pizza.
So I wanted to take her to the best of the best.  Where we would get the best pizza slice in town.
An Italian friend of mine made a recommendation.  It was a little out of the town centre where we had been up and down and so wouldn't have passed it.  What better recommendation to follow than an Italian, recommending pizza in the Naples region from a family that started serving over 60 years ago.
Fast forward 24 hours and after queuing outside (you can't book), we were seated at Pizzeria da Franco.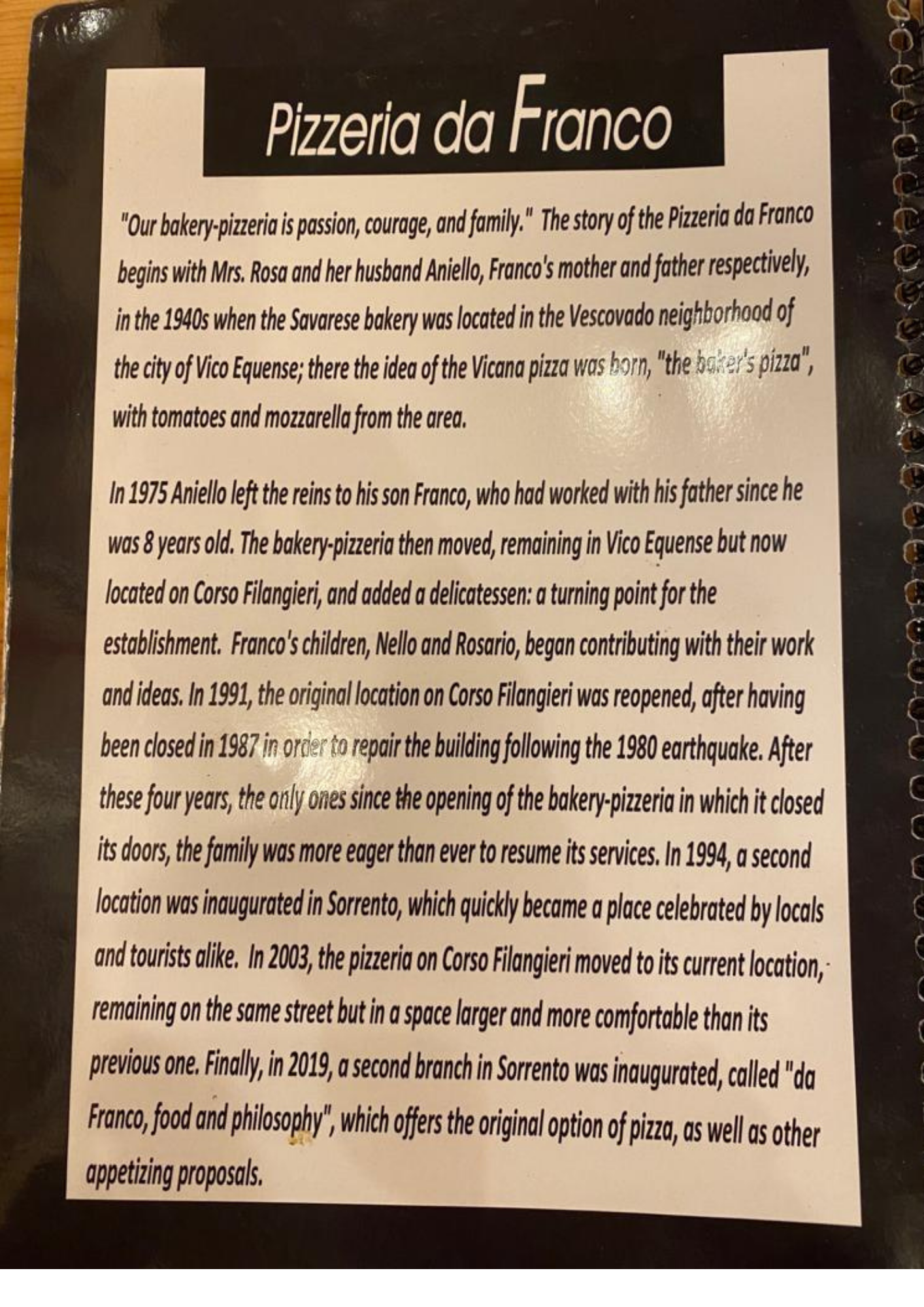 Wow, it certainly did not disappoint and I thanked my friend Giaco for the great recommendation.
This got me thinking, it's the same in business.  The same for you, me and every other small business trying to make a living.
When somebody you don't know is in the market for what you offer, do those that know you recommend you without hesitation?  Are you the first name on the tip of their tongue?
A good referral has three main benefits:
It tells you that you're doing a good job and likely to retain your client
It generates a new lead to help you grow
It's free marketing
Now, there's far too much personal reputation at risk for somebody to refer you if there's any doubt.  They have to be convinced you are the real deal and that you will deliver results or it will bite them on the ass!
There's a whole load of strategies to adopt to ensure that you deliver exceptional results to drive these referrals and too many to list in this week's snippet.
Referrals and word of mouth (WOM) marketing should be a key strategy for you and if you are not receiving them regularly, there's something wrong and you need a re-think.
Here's a few questions to ponder:
Do you know how much of your new business comes from referrals?
Do you proactively ask for referrals?
Do your contacts know what problem you solve, how you solve it and why you are the best option?
Do you thank your referrers for thinking of you?
Whilst you ponder these questions, I'm off to find a gym to work off a week's worth of pizza, Prosecco and coffee.
Ciao for now.
Do you know how your clients find you or are you constantly marketing in the hope that you can generate new business? Having predictable revenue and cash is the key to sustainable growth. If you would like to understand how to find and work with more of your ideal clients, access our tool here to get started: tendo-uk.com/clientorigin