Elon Musk appeared to issue a 'back to the office full time or you're fired' notice recently and it caused a huge stir, mainly it seems from those that don't work for Tesla.
In my opinion, he is one of the most talented and wealthy entrepreneurs on the planet and whilst I'm sure he doesn't get every decision right, it's his business and his rules. Fair play to him.
Looking closer to home, your focus should be on your business and your rules.
When most small business owners start out, they dream of landing a few clients, the money starts rolling in and they work a handful of hours.
Simple right? Wrong!
The reality is often far from the dream. Working for the wrong clients, at the wrong prices, doing work they don't want is a common theme. They then work longer hours to bridge the gap and the money still only trickles in. They become trapped.
This year I've had clients taking a month off to go skiing, taking long weekends to go mountain biking in Wales and others working when it suits them from their villas in Spain or Italy amongst many others. They're all building a business that gives them freedom.
It was August 2011 that I was laid by the pool on holiday killing emails and my son Harrison was begging me to play ball. "You're always working, you're always on your phone!" he said. Ouch! Like a dagger through the heart!
I was building the wrong business and well and truly trapped. Something had to change.
Shortly after, I developed the Freedom To Choose model, recognising that every business owner is at one of four stages.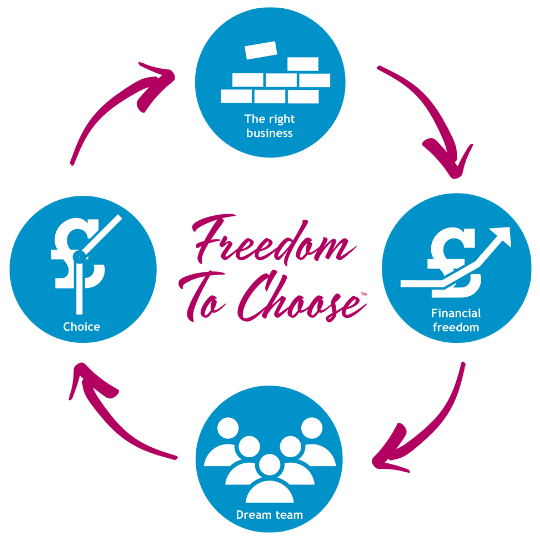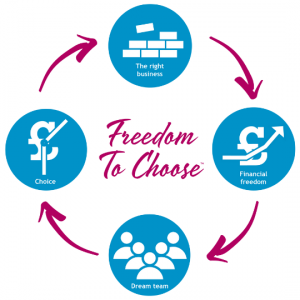 Do you recognise where you are?
I then got the help I needed and took the necessary steps to build a business that gave me more choice and freedom.
As you read this, I'm on holiday in Sorrento with my wife and all three businesses are still running. Crosses fingers!
To build a business that allows you to work where, when and if you choose, you have to start with understanding what success looks like for you. It's one of the five elements of purpose.
The other four being:
What should ignite your fire every day?
What service and value to you deliver?
What's the size of the opportunity?
What financial rewards do you want?
How many hours per day, days per week or weeks per year do you want to work and what will you do when you're off?
The starting place for every great business plan (mine and those mentioned above) is to articulate your five elements of purpose.
Then build a strategy to generate the finances to build the team to enable you to to have the freedom you desire.
Freedom that allows you to forget about Elon and look closer to home.