This week, Gem and I went to the Lakes for a couple of days to bond and to scope out some event venues.  As part of the mini trip, we looked at various outdoor activities that we could do.
Axe throwing was full, Archery – neither of us confessed to being Robin Hood, quad biking didn't appeal due to the rain, so we plumped for a 4×4 off road driving experience in a Land Rover.
If she is honest, the thought of it filled Gem with fear, but we booked it anyway and headed off.
Now on reflection, there are many similarities with what we experienced and what we hear when chatting to business owners.  A perfect metaphor for business if you like, that I'd like to share with you.
We were both in unchartered territory and definitely out of our comfort zones.
Have an end goal in mind – what does success look like and when.  For us it was having fun, bonding, staying safe and learning and being back at base 90 minutes later.
Develop a plan – when you are at the foot of a steep hill littered with large and small rocks, bracken, mud and water, which route are you going to take to navigate towards your goal in an effective manner.  A plan guides you through difficult paths to success.
Be confident – now you have a goal in mind and a plan, have the confidence that your plan will help you achieve the results you desire.
Trust the resources you have – driving a three tonne vehicle and coming down a steep incline without touching the clutch or the brake tells your brain that there's going to be a problem.  Your first inclination is to hit the brake and stay safe but it's the last thing that should be done.  You also have to let the vehicle steer itself in the tracks in front rather than you steering it.
Shooting blind – when you are at the foot or top of a steep incline, you cannot see the route ahead.  You have mapped out a plan, know which direction to aim for and when to steer, sometimes you have to just go for it.
Know when to accelerate and not – in this vehicle, you can go too fast and lose traction.  At times, you have to not accelerate and get to your destination quicker (think tortoise and hare).  Equally, you need to know when to accelerate.  Sometimes in business, you have to go a little slower to get better results.
Tweak as you go – occasionally you will get slightly off track.  Know when to steer, when to accelerate, when to reassess.  Don't panic, make tweaks before you are too far off track and get back to plan ASAP.
Check in on progress – the instructor with us occasionally looked at the timer to ensure we were to plan.  In business, you have to have targets that you use to measure the success of your strategies.  If you get off track, make the tweaks mentioned.
Get out of your comfort zone – the magic doesn't happen unless a little bit of fear and adrenaline kicks in.  Gem went from absolute fear, to loving the experience and absolutely nailing it (though I won't mention the choice words that escaped on multiple occasions…)!
Have fun – running a business is tough, the key is to never get too busy that you can't have fun whilst doing it and enjoy the experience.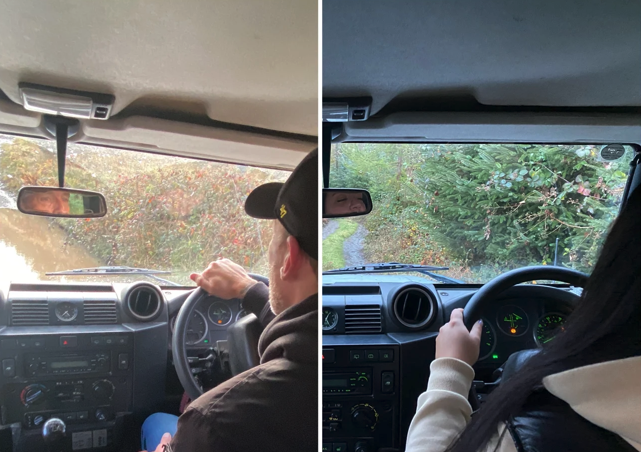 I am sure you can see the many similarities with running a business.
Which one resonates with you from your recent experience?
If you don't have a plan and wish to get started, you can download a copy of my unique Strategy On A Page template here.